We are excited to announce Open Air Theatre is coming back to Miserden this summer! We have 3 fantastic productions in the calendar, all taking place in the beautiful setting of The Garden at Miserden.
To view details about the other performances 'The Comedy of Errors' (June) and 'Three Men in a Boat' (July) Click Here
Tuesday 13th August 2019 – 7pm (gates open from 6pm)

'Much Ado About Nothing'
Three Inch Fools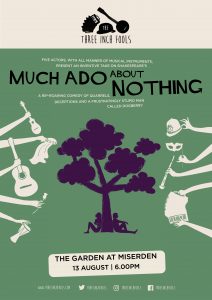 Five actors, with all manner of musical instruments, present an inventive take on Shakespeare's Much Ado About Nothing – a rip-roaring comedy of quarrels, deceptions and a frustratingly stupid man called Dogberry.
The Three Inch Fools is a five-strong troupe of actors, performing a highly imaginative and vibrantly musical take on Shakespeare's plays across the UK.
The Fools do Shakespeare differently – a fast-paced, musically-driven style, using all sorts of different instruments, plenty of multi-roling and many a quick costume change along the way.
Returning from the battlefield as brave soldiers, Claudio and Benedick find themselves battling feelings of the heart as they are reunited with Hero and Beatrice. A series of misunderstandings, mistaken identity, and a scheming brother threatens to sabotage Claudio's attempts to woo Hero. While Benedick and Beatrice find themselves stubbornly fighting their feelings for one another. www.threeinchfools.com
Click the button below to buy tickets for Much Ado About Nothing. Being outdoors, please bring your own seating (blankets, camping chairs, etc) and dress for the weather!
Adults £18, Children £10, Under 10yrs Free, Family ticket 2+2 £50