Over the next few months we have some great evenings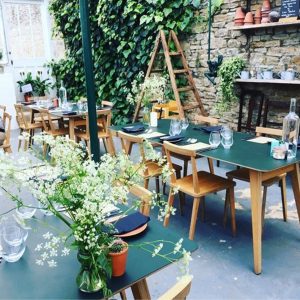 lined up for the Pop Up Restaurant, with top quality local chefs preparing delicious menus to be enjoyed in the picturesque setting of the Garden Café at Miserden. We have recently installed a heating system, making the glasshouse lovely and cosy in the colder months and we are particularly excited to be introducing 2 brand new Pop Ups for 2019. Click here to book your table www.miserden.org/popup
Friday 9th August – Rubols Kitchen Fusion
Set up by Ruby & Holly, cousins from the Cotswolds, with a passion for food & travel. They have combined their love of Mexican & Middle Eastern food to create their unique fusion dishes, such as the Shawarrito (a cross between a Shawarma Wrap & a Mexican Burrito).
Saturday 31st August – Soushi
Promising another unmissable evening for fans of Japanese food, Soushi's chef Brett Mills will be creating a fantastic feast for diners. A beautifully fresh banquet of sushi and Japanese dishes in the beautiful setting of the Garden Cafe.
Saturday 21st September – Poco Culina
"From Transylvania to Turkey – Culinary adventures of the Black Sea". An exciting, completely plant-based Poco Culina food travelogue of original and creative Transylvanian takes on a world of epicurean delights.
Friday 4th & Saturday 5th October – The Camp Kitchen
Michelin trained chef Rory Baxter is driven by a passion for food and has developed a modern approach to traditional dishes while training under professionals with similar ideas and styles.
More dates to be listed soon!