We are excited to announce Open Air Theatre is coming back to Miserden this summer! We have 3 fantastic productions in the calendar, all taking place in the beautiful setting of The Garden at Miserden.
To view details about the other performances 'Three Men in a Boat' (July) and 'Much Ado About Nothing' (August) Click Here
Friday 21st & Saturday 22nd June 2019 – 7.30pm (gates open from 6.30pm)

'The Comedy of Errors'
Downpour Theatre Company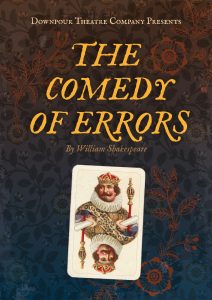 Downpour Theatre Company presents Shakespeare's The Comedy of Errors, one of his shortest yet wittiest plays.
Downpour Theatre Company is no stranger to open air theatre, having been named in honour of a particularly damp final performance of their debut production, A Midsummer Night's Dream back in 2016.
Let the cast transport you to the Byzantine Empire. Hilarity ensues when Antipholus of Syracuse and his servant Dromio arrive in the hustle and bustle of Ephesus. Unbeknownst to them Ephesus is the home of their identical twins, Antipholus and Dromio, from whom they were separated in a tragic shipwreck when they were just infants. Over the course of a single day, mistaken identities lead to unfair beatings, wrongful arrests and false accusations of infidelity, theft, madness and even demonic possession. A gloriously silly but clever farce, performed by a marvellously talented cast; what better way to spend a summer weekend! www.downpourtheatrecompany.co.uk
Click the button below to buy tickets for The Comedy of Errors. Being outdoors, please bring your own seating (blankets, camping chairs, etc) and dress for the weather!
Adults £15, Concessions (including OAPs, students & 8-16yrs) £10