We are excited to announce Open Air Theatre is coming back to Miserden this summer! We have 3 fantastic productions in the calendar, all taking place in the beautiful setting of The Garden at Miserden.
To view details about the other performances 'The Comedy of Errors' (June) and 'Much Ado About Nothing' (August) Click Here
Saturday 13th July 2019 – 6pm (gates open from 5pm)

'Three Men in a Boat'
Kick In The Head Productions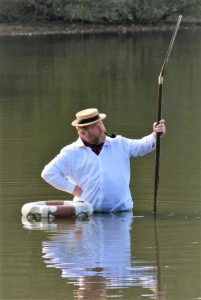 Produced by Kick In The Head
Written by Jerome K. Jerome
Adapted for the stage by Simon Downing & Giles Shenton
Directed by Simon Downing
Music by Andrew D Brewis
After the hugely successful tour of Old Herbaceous, Kick In The Head Productions is back with a rip roaring barrel of fun, Three Men in a Boat, with Giles Shenton (Old Herbaceous himself!) playing the part of Jerome K Jerome.
Join Jerome as he recounts the hilarious story of his boating holiday along the magnificent River Thames with his two companions and Montmorency the dog. Come and join in the fun as Giles Shenton expertly takes the helm and pilots you through the ridiculous tale of men behaving badly while messing about in boats!
"There are a few seriously funny books that remain great for all time. Three Men in a Boat is one of these" The Guardian
"Timeless appeal" The Independent
"Pitch-perfect comedy about, well, three men in a boat" The Telegraph
Giles Shenton "creates an instant rapport with the audience, drawing us into his world and making the characters in it so real we feel you have known them forever. " Edinburgh Fringe Review
"Skilfully distilled from Jerome K. Jerome's comic masterpiece into 95 minutes of pure delight. To those who wondered if the same team could live up to the earlier success of Old Herbaceous, the answer was an emphatic yes. A master class in confidence, stagecraft and delivery." Opening Night Review
"The nearest thing to "audio slapstick" I've ever heard, culminating in the sublime comedy of opening a tin, when you've forgotten the tin opener. It is not often that you come out of a theatrical performance feeling like you've been sharing happy and hilarious times, safe from a cruel world & wrapped in a warm blanket." Vera Fletcher Review www.kickinthehead.co.uk
Click the button below to buy tickets for Three Men in a Boat. Being outdoors, please bring your own seating (blankets, camping chairs, etc) and dress for the weather!
Tickets £20